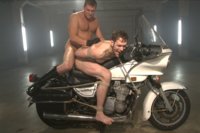 Patrick Isley has no idea why he is detained— and no idea what Officer Connor Maguire has in store for the night. The officer handcuffs Patrick to the cage, stripping him down and forcing him to worship hard police dick before introducing Patrick's tender muscles to the crop. Officer Maguire continues his game, pinching down on his nipples and balls and surrounding his vulnerable toes with mousetraps. The officer subjects Patrick to an unrelenting flogging as Patrick dances, unsuccessfully, to avoid the mousetraps. Officer Maguire then binds Patrick to his motorcycle, caning his ass and thighs before pounding Patrick's hairy hole. Officer Maguire finishes off his prey by busting a load of cum right into his mouth.
Join Site!
Buy Shoot!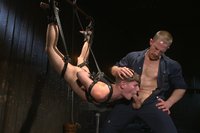 Bound by belts and blindfolded in a dark workshop, Dakota Wolfe can only whimper as Adam Herst finishes polishing his favorite riding crop. Adam gropes and torments the boy, using his handyman creativity and tools to rearrange ever more intense positions for his plaything. He sets Dakota in an inverted suspension and then doles out a vicious flogging. The boy gets placed in a stockade bed, his ass caned and mouth gaped with a spyder gag. Adam feeds Dakota his cock before pounding his ass into the night. Dakota blows his load first, while fucked on his back, legs tied to the bedposts behind his head as the crop whales down on his thighs. Grateful for his treatment, he readily accepts Adam's hot cum and swallows it all.
Join Site!
Buy Shoot!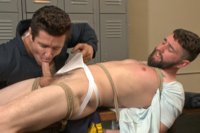 Jackson Filmore is changing into his workout clothes without realizing that the Creepy Handyman, Trenton Ducati is looking on. Jackson catches a whiff of his sneakers and gets aroused, doing his work out routine with a hard-on. Trenton can't help himself and ties Jackson up to a bench. He sucks the boy's toes, punches his chest, and makes Jackson suck his cock. On an exercise bike with a dildo attached, Jackson is made to fuck his own ass while receiving a hard flogging. With Jackson's hole primed for fucking, Trenton ties him to a treadmill and fucks him hard. With the workout over, Trenton gives Jackson a stretch fuck at the end of the session and covers his face in cum.
Join Site!
Buy Shoot!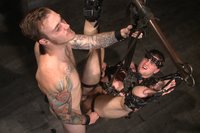 Dom of the house Christian Wilde paces back and forth inspecting the new boy of the house, Scott Harbor. Scott pleads that he wants to service his master's cock and even offers his ass for all of Mr Wilde's pleasures. But there's only one thing on Mr Wilde's mind, the desire to hear Scott's screams as he beats the fuck out of him. Scott's slave training begins as he's beaten down with the crop while ordered to strip naked. Bent over, the new boy learns that his ass must always be prepared for his master as Mr Wilde slides his thick, hard cock deep in Scott's ass. Medical clamps pinch down across the boy's shoulder's to hold him in place as the house dom wields the leather flogger against his flesh. His beating continues as he's inverted upside down in mid-air, dangling helplessly as his screams fill the dungeon. Christian rewards his boy with a final fuck before shooting a load of cum into his mouth.
Join Site!
Buy Shoot!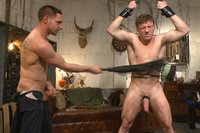 Hung stud Doug Acre is minding his own business taking a piss at the urinal when handyman Jay Rising pounces from behind and wrestles Doug to the ground. Bound with his mouth duct taped shut, Doug awakens back at the creepy handyman's place as he's tormented with the crop and made to swallow Jay's 10 inch cock. Doug's arms are strung up above his head as he's brought to his feet, Jay stroking his big cock with one hand and a flogger in the other. The creepy handyman beats his boy down before throwing him down on the couch for a turn at his ass. Doug helplessly screams as he feels all 10 inches slide inside him as Jay pours hot wax all over the boy's torso. After a rough pounding Jay sprays his load all over Doug's face and has him suck off every drop.
Join Site!
Buy Shoot!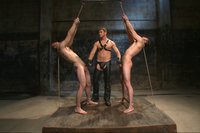 Welcome to the January Bound Gods Live Show! We begin with Abel Archer and John Smith bound to each other; legs interlocked, arms behind their backs, and blindfolded. As the boys try to untie themselves Connor Maguire and Van taunt them with crops. Stripped naked to reveal their chastity the boys are teased mercilessly as Connor gets them aroused inside the hard cock casing. A heavy flogging is issued to both boys with rope gags tied off to the floor, putting them in a brutal back arch position. With John and Abel tied up to wooden posts, Van suspends giant chunks of ice from their balls, covers them in clothespins, and hoses them down. The boys scream in pain as the high velocity hose pelts their bodies. Connor then fucks the near exhausted boys as they get their feet caned. After sharing Connor's load the boys get their own cum machine fucked out of them to the delight of the members watching live.
Join Site!
Buy Shoot!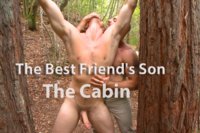 KinkMen is proud to present this week, the prequel to the The Cabin. In this dark tale, Tatum finds out that his best friend and business partner Morgan is unable to make it to the cabin for their usual weekend romantic rendezvous because Morgan is busy with his wife. Instead, Morgan's son Kip will be there with some hippy friends. Fantasizing about Kip, Tatum rushes off to the cabin and can't help but creep on Kip as he's taking a shower. Tatum soon finds out little Kip is all grown up and has a very dark side.
Join Site!
Buy Shoot!