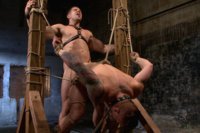 Vertically strapped to a grid of chains, a blindfolded and muzzled Hugh Hunter awaits his leather master, Trenton Ducati. Trenton finally emerges from the shadows with a flogger draped over his ripped body. Trenton bites down on Hugh's submissive ass and reminds Hugh, "You're my property today." Trenton starts flogging Hugh's ass and torso. The relentless flogging gives Hugh a hard-on, so Trenton pulls out Hugh's cock and has it taste a twirling flogger on its throbbing head. Promising a surprise for his plaything, Trenton pulls out a violet wand and edges Hugh while the wand sparks over Hugh's balls, chest and tongue. Hugh finds himself in a rope harness with his hands tied behind his back. Trenton manhandles his property's chest and gets another taste of its cock before bringing out the crop. After warming Hugh's nipples, cock and ass with the crop, Trenton shoves Hugh down for a rough blow job. Hugh gasps for air as Trenton assembles a clothespin zipper from torso to thigh. Trenton fixes the ends of the zipper to the ground and yanks Hugh into the air. Hugh screams for mercy as the clothespin rip away from his tender flesh and Trenton crops away to the sounds of his screams. Trenton has his hunk of meat bound and bent over between two posts as Trenton's fat cock enters his tight hole. Hugh's fucked relentlessly until his master busts all his cum and smears it all over Hugh's face.
Join Site!
Buy Shoot!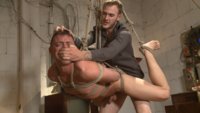 Derek Scott tried to evict Sebastian Keys, but Sebastian had something else in mind. Now after relentless edging, Derek remains suspended and hogtied in Sebastian's fuck den for days now. Back at Derek's office, a resentful Christian Wilde gets dispatched to find his missing rival colleague -- that same arrogant Derek Scott who stole Christian's promotion. As Christian uncovers the lurid scene in Sebastian's apartment, he gets some twisted ideas of his own. Helpless to do anything else, Derek submits to Christian, deep-throating huge cock and giving a sloppy rimjob. Christian swings Derek by his balls before fucking his ass. Christian next allows Derek to stand on his feet again, although bound and blindfolded, and delivers a brutal flogging before once more suspending his prick coworker as the flogging continues. The field work isn't complete without an evaluation of the apartment's power grid, so Christian has Derek test an electro buttplug and stimulation electrodes. Satisfied with the tests, Christian gets back to a vicious fucking before blowing his load all over Derek's ass. Derek gracious accepts Christian's cum, and begs for his own orgasm. Christian obliges, and Derek finally gets his release. The torment hasn't ended, however, as Christian manhandles Derek's sensitive cock head and balls.
Join Site!
Buy Shoot!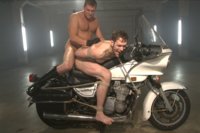 Patrick Isley has no idea why he is detained— and no idea what Officer Connor Maguire has in store for the night. The officer handcuffs Patrick to the cage, stripping him down and forcing him to worship hard police dick before introducing Patrick's tender muscles to the crop. Officer Maguire continues his game, pinching down on his nipples and balls and surrounding his vulnerable toes with mousetraps. The officer subjects Patrick to an unrelenting flogging as Patrick dances, unsuccessfully, to avoid the mousetraps. Officer Maguire then binds Patrick to his motorcycle, caning his ass and thighs before pounding Patrick's hairy hole. Officer Maguire finishes off his prey by busting a load of cum right into his mouth.
Join Site!
Buy Shoot!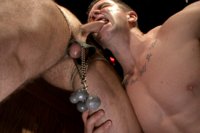 Kyle Kash sits at the bar, waiting for the stud he met on the internet, username "HandyMan69." HandyMan69 arrives, turning out to be creepy handyman Trenton Ducati. Kyle takes on a stuck-up attitude and tries to call off the date. Insulted, Trenton decides to teach Kyle some respect for the working man's cock. Kyle's abducted from behind and finds himself mummified in tight bondage, leaving the snobby boy vulnerable to Trenton's crop. Helpless, Kyle can only squirm as Trenton makes him worship sweaty feet and hard dick. The creepy handyman then binds his boy to the bar for ball torment and an unrelenting flogging. Trenton delivers a hard fuck as Kyle is suspended in mid-air before finishing him off with a face full of cum.
Join Site!
Buy Shoot!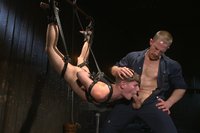 Bound by belts and blindfolded in a dark workshop, Dakota Wolfe can only whimper as Adam Herst finishes polishing his favorite riding crop. Adam gropes and torments the boy, using his handyman creativity and tools to rearrange ever more intense positions for his plaything. He sets Dakota in an inverted suspension and then doles out a vicious flogging. The boy gets placed in a stockade bed, his ass caned and mouth gaped with a spyder gag. Adam feeds Dakota his cock before pounding his ass into the night. Dakota blows his load first, while fucked on his back, legs tied to the bedposts behind his head as the crop whales down on his thighs. Grateful for his treatment, he readily accepts Adam's hot cum and swallows it all.
Join Site!
Buy Shoot!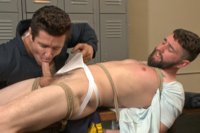 Jackson Filmore is changing into his workout clothes without realizing that the Creepy Handyman, Trenton Ducati is looking on. Jackson catches a whiff of his sneakers and gets aroused, doing his work out routine with a hard-on. Trenton can't help himself and ties Jackson up to a bench. He sucks the boy's toes, punches his chest, and makes Jackson suck his cock. On an exercise bike with a dildo attached, Jackson is made to fuck his own ass while receiving a hard flogging. With Jackson's hole primed for fucking, Trenton ties him to a treadmill and fucks him hard. With the workout over, Trenton gives Jackson a stretch fuck at the end of the session and covers his face in cum.
Join Site!
Buy Shoot!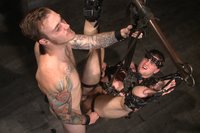 Dom of the house Christian Wilde paces back and forth inspecting the new boy of the house, Scott Harbor. Scott pleads that he wants to service his master's cock and even offers his ass for all of Mr Wilde's pleasures. But there's only one thing on Mr Wilde's mind, the desire to hear Scott's screams as he beats the fuck out of him. Scott's slave training begins as he's beaten down with the crop while ordered to strip naked. Bent over, the new boy learns that his ass must always be prepared for his master as Mr Wilde slides his thick, hard cock deep in Scott's ass. Medical clamps pinch down across the boy's shoulder's to hold him in place as the house dom wields the leather flogger against his flesh. His beating continues as he's inverted upside down in mid-air, dangling helplessly as his screams fill the dungeon. Christian rewards his boy with a final fuck before shooting a load of cum into his mouth.
Join Site!
Buy Shoot!