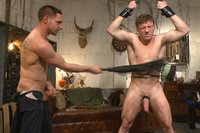 Hung stud Doug Acre is minding his own business taking a piss at the urinal when handyman Jay Rising pounces from behind and wrestles Doug to the ground. Bound with his mouth duct taped shut, Doug awakens back at the creepy handyman's place as he's tormented with the crop and made to swallow Jay's 10 inch cock. Doug's arms are strung up above his head as he's brought to his feet, Jay stroking his big cock with one hand and a flogger in the other. The creepy handyman beats his boy down before throwing him down on the couch for a turn at his ass. Doug helplessly screams as he feels all 10 inches slide inside him as Jay pours hot wax all over the boy's torso. After a rough pounding Jay sprays his load all over Doug's face and has him suck off every drop.
Join Site!
Buy Shoot!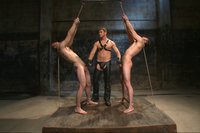 Welcome to the January Bound Gods Live Show! We begin with Abel Archer and John Smith bound to each other; legs interlocked, arms behind their backs, and blindfolded. As the boys try to untie themselves Connor Maguire and Van taunt them with crops. Stripped naked to reveal their chastity the boys are teased mercilessly as Connor gets them aroused inside the hard cock casing. A heavy flogging is issued to both boys with rope gags tied off to the floor, putting them in a brutal back arch position. With John and Abel tied up to wooden posts, Van suspends giant chunks of ice from their balls, covers them in clothespins, and hoses them down. The boys scream in pain as the high velocity hose pelts their bodies. Connor then fucks the near exhausted boys as they get their feet caned. After sharing Connor's load the boys get their own cum machine fucked out of them to the delight of the members watching live.
Join Site!
Buy Shoot!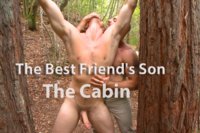 KinkMen is proud to present this week, the prequel to the The Cabin. In this dark tale, Tatum finds out that his best friend and business partner Morgan is unable to make it to the cabin for their usual weekend romantic rendezvous because Morgan is busy with his wife. Instead, Morgan's son Kip will be there with some hippy friends. Fantasizing about Kip, Tatum rushes off to the cabin and can't help but creep on Kip as he's taking a shower. Tatum soon finds out little Kip is all grown up and has a very dark side.
Join Site!
Buy Shoot!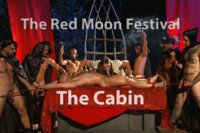 For Halloween and in the continuation to The Cabin Prequel Tatum wakes to the sound of far away drums after having a sex dream about his business partner's son, Kip. Following the hypnotic beat, Tatum stumbles across the Red Moon Ceremony where a group of men in masks worship a hot stud's body. Tatum can't turn away as the men suck and fuck the masked hunk while covering him in hot wax. Tatum, realizing he's overstayed his welcome tries to sneak away, only to be caught. It's now Kip's turn to punish Tatum. Ensnared by the group of Red Moon worshipers Tatum is made to suck cock and take Kip's load. Far from the comforts of The Cabin, no one can hear you scream.
Join Site!
Buy Shoot!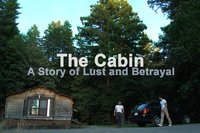 KinkMen is proud to present a Bound Gods feature movie this week. In a dark story of lust and betrayal, Tyler Alexander's father has just passed so his father's long-time friend and business partner, Morgan Black, takes him on a retreat to the family's cabin deep in the woods in order to hand over his portion of the family business. As the two reminisce Morgan can't help but fantasize about the college stud. Little do they know that a madman Ricky Sinz is prowling these same woods. He's already taken a rogue camper's ass as his prize with a hard beating and fucking that left the camper, Logan Vaugn, exhausted and covered in cum. Now, as Morgan watches Tyler jacking off in the shower Ricky waits in the shadows for his time to strike.
Join Site!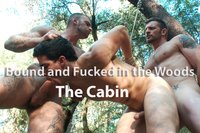 Unaware that madman Ricky Sinz has been prowling outside their cabin, Tyler Alexander and his late father's best friend, Morgan Black, head up the ridge on a long hike in the woods. Ricky is stalking them along the way. When Tyler goes to take a piss, Ricky senses his chance. He takes both men down and ties them to stakes on top of the ridge. Morgan is helpless as he's made to watch Tyler suck Ricky's cock. Ricky drags them down out of the hot sun and tied to a forked tree begins flogging them. Morgan asks to take Tyler's pain so Ricky flogs him hard then fucks both their asses. With Tyler tied to a branch Ricky makes Morgan fuck him until he reluctantly cums all over Tyler's ass. Will Tyler and Morgan be the same after their trip to the cabin?
Join Site!
Buy Shoot!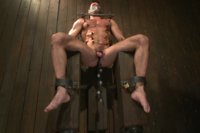 Helpless Billy Santoro awaits, locked in iron with duct tape across his mouth at the mercy of Christian Wilde. Painful clamps pinch all down Billy's muscled body while heavy weights dangle from his balls. After the helpless stud endures each clamp being cropped from his flesh, he's bent over and made to swallow Mr Wilde's hard cock before being tormented with the flogger. Chained down like an animal, Billy bites down on the bit gag tightly placed in his mouth as Christian furiously fucks him from behind. Billy's finished off with a load of hot cum all over his face.
Join Site!
Buy Shoot!