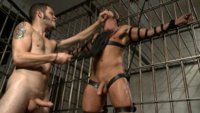 Officer Eli brings in hard criminal Wolf Hudson to lockup. The tables turn when he gets fooled into letting him out. Wolf goes crazy on him, by fucking him on his desk with his own baton. He plays with his ass some more and then straps him to his cell wall while fucking him with a machine. Finally Wolf zaps him while Eli is bound in stocks with his pretty little ass at full access. His ass is pounded and he's left covered in cum.
Join Site!
Buy Shoot!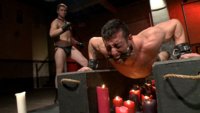 It's Casey More's birthday and Connor Maguire aims to deliver a hard BDSM session as his gift to the cut stud. Bound to a pillar and blindfolded, Casey gets his cock sucked while Connor crops him relentlessly. Connor then puts Casey's muscled body to work by making him perform twenty-seven push-ups over candles while using the Cat-of-Nine on his ass. In a full suspension Casey gets the final gift of Connor's cock up his ass and his Master's load on his face.
Join Site!
Buy Shoot!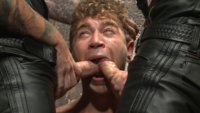 Alex Greene is a painslut who only desires to serve the house, so Christian Wilde and Wolf Hudson arrive to test him. Unimpressed at first with the slave, Mr. Hudson makes the boy lick his boots clean while taking a flogging from Mr. Wilde. Mr. Hudson drags Alex back up to see if the slave's cocksucking skills are worth anything. Meanwhile, Mr. Wilde pulls out two buckets and has the slave hold them straight out as more and more weights are dropped into them. As his arms strain to hold the heavy load, the doms adorn Alex's balls with clover clamps and shove his head from cock to cock. For the next stage of the test, the slave gags on cock while Mr. Wilde canes his meaty ass. The doms trade positions, Mr. Hudson fucking Alex relentlessly as Alex sucks off Mr. Wilde. They move Alex into more strenuous bondage, suspending his hips from the ceiling as his wrists and ankles are tied down to the floor. The torment continues while Alex is relentlessly zapped with electricity, all while taking cock from both ends. Mr. Hudson decides to glaze Alex's face with cum first, with Mr. Wilde following closely with a huge load of his own. Alex is brought back down to the floor to show his master's his eager load before they leave him strung up in the air.
Join Site!
Buy Shoot!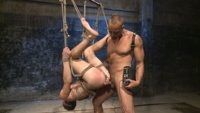 Shawn Andrews struggles against his restraints, but to no use. The boy cannot see, move or speak. The house doesn't grant such privileges to new slaves, especially not defiant ones such as Shawn. Luckily for this slave, Jessie Colter will teach him his proper place in the house-- total submission. Jessie rips the clothes from Shawn's lean body and starts slapping sense into the boy. He binds the boy on his knees between two pillars and weighs down the slave's balls. With the heavy weights pulling his tender balls, the slave gags on Jessie's massive dick and takes a mean flogging. The slave begins to submit as he finds himself in a suspended 69 with his master. Jessie inserts an electric butt plug into the slave's willing asshole and makes the boy squirm in his ropes as he intensifies the current. With his slave's hole conditioned by the electricity, Jessie pounds the boy mercilessly. The slave gratefully accepts a hot load all over his face and is brought to his knees to bust his own on Jessie's boots. With long licks, he dutifully cleans his mess as his master admires a job well done.
Join Site!
Buy Shoot!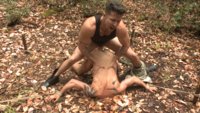 Out in the woods Trenton Ducati drags his boy, Tyler Rush, deeper and deeper into the brush. Removed from society no one can hear Tyler, ass up with his head buried in the ground, scream from Trenton's paddle and cane. Trenton fucks the boy's hole and then suspends him from a tree. After a hard flogging Tyler gets clothes pins all over his torso and Trenton unleashes a zipper on him. Finally, with Tyler bound in a spider's web of rope between trees, Trenton fucks a load out of his boy, cums in Tyler's mouth and leaves him buried in the forest.
Join Site!
Buy Shoot!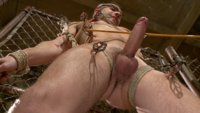 The sweet, earthy smoke of a fine cigar exits Connor Maguire's ripped body and fills the narrow corridor leading down to the basement. There, Slave #002 awaits his master, slung in ropes from a rusted chainlink fence. Connor blows smoke in the slave's face before groping the slave's eager cock. #002 receives an ample caning from Connor, thanking his master through the sharp blows from the cane. The painslut slave's dick bulges as his body is covered in clover clamps and more swift caning. Connor takes the slave from the fence and secures him on the rack. With his back contorted into a severe arch, the slave worships cock and has his balls crushed. The slave begs for mercy as Connor flogs his open chest, but Connor refuses. Instead of mercy, there is only pain and pleasure, and the slave is made to chant that mantra as the flogging intensifies. Connor suspends #002 from the ceiling and pounds his massive cock deep into the slave. He jerks a load from his slave before having him eat it off his leather glove. The slave is brought to his knees and hungrily takes his master's cum. Satisfied, Connor walks off, commanding #002 to wait at attention for the next dom.
Join Site!
Buy Shoot!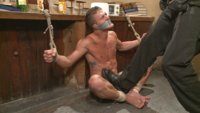 Christian Wilde just finished a long graveyard shift, and now he needs to unwind. Lucky for Christian, he has a plaything awaiting him in his dingy apartment-- Alexander Gustavo, locked in a chest. Christian wrests the abducted stud out from the chest and binds him to a cabinet. Alexander tries to resist the torment as Christian torments his vulnerable body. Christian painfully twists his prey's nipples and crushes his balls with work boots before bringing out a taser, zapping Alexander's pecs and balls. After a deep face fucking, Christian tears Alexander's nerves to shreds as he traces a cattle prod around his balls before delivering a cruel shock of electricity. Next, Christian ties Alexander over his bed posts where he takes brutal whipping and flogging. Christian then ravages Alexander with a fucksaw, pulling the trigger to full power. Now with Alexander's hole prepared for Christian's massive cock, Alexander takes a mean fucking over a web of ropes.
Join Site!
Buy Shoot!