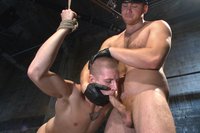 Officer Connor Maguire has just caught perp Brendon Scott and quickly cuffs his hands behind his back. The muscled officer torments the boy's nipples before giving Brendon's big cock a beating with the crop. Bound in rope, Brendon is then tormented with the flogger before he's made to swallow the officer's rock hard cock. Officer Maguire rams his cock deep inside Brendon's tight ass while suspended in mid-air. After receiving a load of cum on his face, Brendon's brought down to the ground with a nightstick shoved up his ass until Officer Maguire milks a load out of the boy's cock.
Join Site!
Buy Shoot!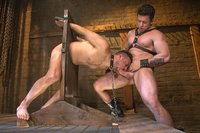 House Dom Trenton Ducati arrives in the Chain Room to test his new sub, Leon Fox. Trenton begins the session by having the boy clean his leather, grabbing him by the hair and making him rub his tongue on his boots. Trenton grabs a bucket of water and dunks the boy in it while he fucks his ass, making him hold his breath while he endures the rough fucking. Bound with his arms up, Leon takes a relentless flogging and gets Trenton's cock rammed up his throat. Trenton locks the boy into a brutal ass-up, arms-back position and fucks him one last time. Leon cums with Trenton's cock in his ass and then receives Trenton's load on his face.
Join Site!
Buy Shoot!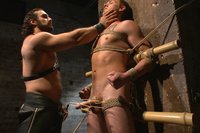 Zane Anders is bound from head to toe with bamboo awaiting his Dom, Jaxton Wheeler. As a newcomer to The House, Zane is eager to please, and Jaxton is just as eager to challenge the boy. With Zane's hard cock bound to wooden skewers Jaxton works his cockhead with the crop. After leaving the boy covered in crop marks, Jaxton allows his sub to worship his leather boots and choke on his cock. Jaxton ties Zane to a wooden archway leaving him exposed and vulnerable to a heavy flogging. Zane takes the wailing very well and maintains a hard cock. Now with his ass red Zane has it fucked by his Dominant. Jaxton fucks a load out of his sub and the covers Zane's ball gag with his own cum.
Join Site!
Buy Shoot!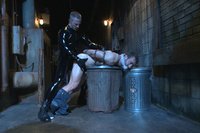 Adam Herst descends upon unsuspecting Onyx recruit Mike Gaite, lost in a dark alley. He chains him to a concrete wall and beats him with a crop, commanding his muscled captive's obedience, then strips his clothes and sucks his thick cock even as Mike begs him to stop. Adam's new recruit finds himself bent over a trash can with his arms chained behind his back and his shirt wadded into a gag in his mouth, as Adam fucks his solid ass. Adam then binds his recruit in belts and flogs him while making him suck his perfect cock. Mike's then suspended and fucked, and finally blows his hot load while getting plowed over a cage that will eventually be his prison. Adam completes his recruit's initiation by shooting his huge load on his face and making him suck it clean.
Join Site!
Buy Shoot!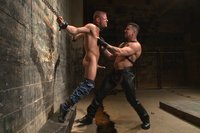 House dom Trenton Ducati walks up to Joseph Rough, chained to the wall awaiting his master. Mr Ducati torments the boy's uncut cock and his tender nipples before shoving Joseph's head down to swallow cock. Bound on stilts the boy is punished with the flogger as he struggles to keep his balance before clothespins pinch all down his torso. With his feet up in the air Joseph presents his ass for Trenton as his giant hard cock plunges deep into the boy's hole. After making him eat his own cum, Mr Ducati rewards his boy with more cum all over his face.
Join Site!
Buy Shoot!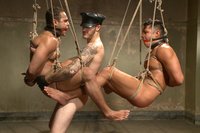 Welcome to another Bound Gods Live featuring muscled studs Brock Avery and Seth Santoro with Van Darkholme and Christian Wilde as our doms. Brock and Seth are ordered to their knees to present their holes for Mr Wilde as he warms up their meaty asses using the riding crop. After swallowing Christian's hard cock, both slaves are put to work as they're made to lift weights, do pushups and jumping jacks all while painful clover clamps pinch on their balls. Mr Wilde then beats the bound studs down with the flogger as Van suspends them in the air. With their asses exposed, Christian pounds away on both of their holes before they're tied down on the table for another fuck. Cock is replaced with electric butt plugs shoved up Seth and Brock's ass as they're ordered to blow their loads. Finally, Christian rewards both studs by covering their faces in his hot cum and having them lick up every drop.
Join Site!
Buy Shoot!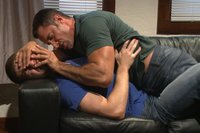 Muscled hunk Nick Capra has been checking out the boy bar in town and noticed a hot stud from out of town, Conner Halsted. He brings Conner back to his place and when Nick gets a little aggressive, Conner suddenly remembers he has somewhere else to be. But before he can make it to the door, Nick binds his hands behind his back and shuts him up with a gag in his mouth. Helpless, Conner begs for someone to come to his rescue, but no one can hear his screams as Nick whips out the boy's uncut cock. Conner's then tormented with the paddle on his ass before being covered with hot wax. Unable to wait any longer, Nick rams his fat cock up the boy's ass and covers his face with a load of cum before having him suck every drop off.
Join Site!
Buy Shoot!