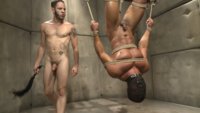 Wolf Hudson has found a new job but in order to start work he needs a physical, so he finds the only place his HMO will cover, Dr. Micah Brandt's office. The creepy doctor tricks Wolf into medical restraints and has his way with his patient's big uncut dick. Once Micah turns his back to grab more "implements", Wolf finds his window of opportunity and tackles the twisted doctor to the ground and drags him off to the padded cell. Tossed around like a rag doll, Micah's slammed on the floor, beaten with his own belt and fucked from behind by a pissed off and horny Wolf. Inverted in the air, Micah's beaten from all sides with a vicious flogging before swallowing 8 inches of uncut cock down his throat. Wolf finishes the doctor off with one more fuck before covering his face in cum.
Join Site!
Buy Shoot!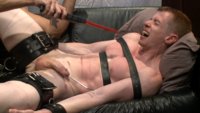 Held captive and edged all night in Jessie Colter's house, Mormon missionary Jack Redmond can't imagine how his situation could get any more intense. Jessie can. He binds the captive missionary back under the stairs, bent over, ass on full display. Jessie gapes Jack's ass to the limit, jamming a fist deep into the boy. The fist enters Jack a little too easy for Jessie's liking, so he adds his other hand to the hole. Jessie frees his hands for flogging with a silicone fist for Jack, leaving it far inside the boy while beating his cheeks red. Still trembling from the flogging, Jack finds himself blindfolded in Jessie's bedroom doorway. Unsure where the next painful hit from Jessie's crop will land next, Jack submits to the crop marks painting his pale skin before swallowing Jessie's hard cock. After the cropping, Jack finds himself bound with leather belts, while taking a cold steel rod deep into his pisshole. Jessie finishes him off with brutal zaps and a rough fuck before coating hot cum all over his face and making him polish off every drop.
Join Site!
Buy Shoot!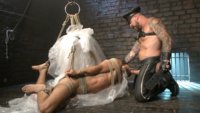 With his new plaything wrapped in plastic and swaying from the ceiling, Rocco Steele tests the firm leather of his paddle. Mr. Steele approaches the package and tears it open, revealing Adam Ramzi. He lowers Adam and inspects the slave's ass, wasting no time probing and tasting his hole and paddling his firm cheeks. Mr. Steele moves to Adam's head and has the slave suck his massive cock. After a vicious paddling, Adam stands bound against a column, face covered by a leather hood. Mr Steele mixes pleasure and pain for his slave, caressing the slave's cock before tying it off to a long rope and pulling from across the room. Adam receives a painful edging, the orgasm interrupted by a zipper torn his from his tender nipples and torso. Mr. Steele peels Adam from the column and locks him into a stockade table. Stretched out on the table, Mr Steele plows his whole ten inches deep into the slave's ass while coating his back in hot wax. Adam hungrily takes a messy load from his dom before taking orders to mount a sybian and jerk himself off while cropped. With his prostate rocked by the maximum vibration, Adam lets out a cum explosion before having the sybian turned up to full blast.
Join Site!
Buy Shoot!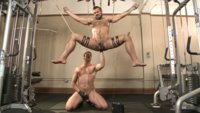 Aarin Asker's creating an annoying scene at the gym, and he's months behind on his dues. When manager Connor Maguire goes to confront the prick, Aarin just puts on attitude. Wrong choice. Connor shoves Aarin against the lockers and discovers his stash of freaky toys. Using the rope from the stash, Connor restrains Aarin's wrists and beats the gym rat down with heavy fists. Aarin has his pecs and balls covered in clover clamps and is lead to the incline bench. Connor makes Aarin do sit-ups on the bench, each time pulling up to suck Connor's fat dick. Aarin soon finds himself suspended spread-eagle across the pull-up bars, Connor running an electric current through his quads. Pushed to his limit by the electricity, Aarin is helpless as Connor plunges his giant fist deep into Aarin's hole. Connor takes Aarin over to the bench press and treats the slut to a face sitting and harsh flogging. He fucks the cum out of Aarin before giving him a mouthful of cum to finish.
Join Site!
Buy Shoot!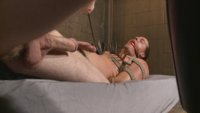 Kip Johnson struggles against the belts strapping him down to an iron cage, not knowing what awaits. House dom Christian Wilde emerges from the dark and inspects his plaything, testing Kip's nipples and package with heavy blows. Mr. Wilde shoves Kip into a low horizontal stock, pressing the sub into a difficult squatting position. Kip's long hair gets stapled to the wood, holding his head in place for a facefucking from Mr. Wilde. Moving Kip to a taller stock, Mr. Wilde ropes his cock and balls down to the floor. Kip receives a painful edging torment before Mr. Wilde flogs Kip's torso and ass raw. Now squirming in a full rope body harness, chest decorated with ample clothespins, Kip gets cropped and fucked by Mr. Wilde. Cum hungry and gagging on Mr. Wilde's cock, Kip jerks himself off on Mr. Wilde's command before accepting the dom's hot cum all on his face.
Join Site!
Buy Shoot!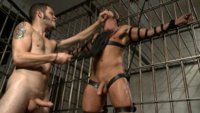 Officer Eli brings in hard criminal Wolf Hudson to lockup. The tables turn when he gets fooled into letting him out. Wolf goes crazy on him, by fucking him on his desk with his own baton. He plays with his ass some more and then straps him to his cell wall while fucking him with a machine. Finally Wolf zaps him while Eli is bound in stocks with his pretty little ass at full access. His ass is pounded and he's left covered in cum.
Join Site!
Buy Shoot!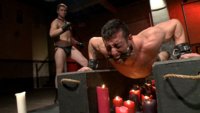 It's Casey More's birthday and Connor Maguire aims to deliver a hard BDSM session as his gift to the cut stud. Bound to a pillar and blindfolded, Casey gets his cock sucked while Connor crops him relentlessly. Connor then puts Casey's muscled body to work by making him perform twenty-seven push-ups over candles while using the Cat-of-Nine on his ass. In a full suspension Casey gets the final gift of Connor's cock up his ass and his Master's load on his face.
Join Site!
Buy Shoot!