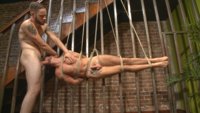 Wolf Hudson can't stand his new stepbrother Brendan Patrick, he keeps badgering Wolf to let let him tag along with his buddies, but Wolf spurns him repeatedly. Dejected and horny, Brendan looks through Wolf's underwear drawer, discovering a stash of kinky toys and rope. Wolf walks in on Brendan's snooping and captures his stepbrother in a rage. Brendan has his hands bound behind his back and gets the taste of Wolf's zapper, flogger and hard cock. Wolf then takes Brendan out to the living room, suspending him horizontally from the staircase. There, Wolf fucks his stepbrother's face and edges him before tormenting the annoying pervert with a zipper of clothespins. Brendan is taken back to the bedroom and takes an electric buttplug up his tight hole. Wolf taunts Brendan as he crops him all over and intensifies the electric current, Brendan screaming for mercy at the top of his lungs. His hole prepared by the TENS unit, Brendan bites down on the ball gag shoved in his mouth as Wolf slides his fat, uncut cock deep in the boy's ass. His hole freshly fucked, Brendan's fed his own cum before receiving his stepbrother's hot load all over his face and sucking his cock clean.
Join Site!
Buy Shoot!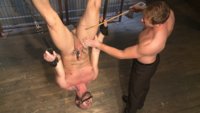 His latest plot foiled, painslut terrorist Jessie Colter has finally been captured by Agent Connor Maguire. Authorized to take any means necessary to extract information from Jessie, Agent Maguire slips on his leather gloves and gets to work. Jessie has his bulging pecs and torso covered in clothespins and cropped. Still unwilling to rat out his comrades, Jessie is made to gag on Connor's dick while taking a vicious paddling. Agent Maguire hoists Jessie into an inverted suspension, leaving Jessie vulnerable to a battery of ball torment, caning and flogging. Next, Agent Maguire takes Jessie to the floor and gives him a rough fucking and hot wax. Connor's hard dick finally persuades the terrorist to squeal, but the confession doesn't grant Jessie any mercy. Connor milks the cum from Jessie's cock and smears it all over his captive's face. Jessie then receives a hot load from Connor, as Connor promises even more torment in the days to come.
Join Site!
Buy Shoot!
Head to toe in his tight leather uniform, Christian Wilde admires a new deerskin crop. Doug Acre, house slave #153 stands at attention to Christian's left, stuffed in a cramped cell. They await the arrival of Adam Ramzi, who will undergo dom training today. With Adam's arrival, Christian presents #153 to Adam, outlining the essential concepts of BDSM as he smacks the slave with his hands and crop. Christian has the boy get to boot blacking as he explains to Adam the importance of keeping the slaves tasked with chores. #153 sets down the polishing rag and gives Mr Wilde a proper spit shine with his tongue. Mr Ramzi learns first hand how a slave properly services his master's cock as #153 begs for more. While sucking Mr. Ramzi, Christian stands the slave up and fucks him from behind, as he struggles to balance on one leg. Christian then brings Doug back to his knees and blows a hot load all over his face. Adam then tries his hand at flogging, delivering a vicious treatment in tandem with Christian as #153 endures every blow. With his slave all to himself, Mr Ramzi binds & blindfolds his boy to a fuck platform, legs spread upward, hole at full presentation. #153 feels every inch of his master's uncut cock ram inside him before Mr Ramzi blows his load all over the bound stud's fat cock. On his knees, #153 is ordered to cover the new house dom's boots and lick it up clean.
Join Site!
Buy Shoot!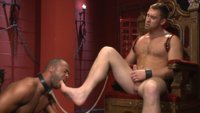 Bound to a post and blindfolded, Micah Brandt trembles as he waits for what house dom Connor Maguire has in store for him. Mr Maguire starts playing with his new sub, tormenting Micah's tender nipples, hard cock and even his balls with the zapper. Micah is moved to the ass splitter while three painful clover clamps pinch on each nipple. Having the slut admit that he loves the pain, Connor delivers more brutal zaps before tearing the clamps off while Micah screams at the top of his lungs. Hanging on the St. Andrew's cross, Micah endures a harsh flogging, while he's reminded to show his gratitude. Still bound to the cross, Micah is flipped over and rammed from behind by his dom's massive cock. On his hands and knees, with a collar around his neck, Micah worships Connor's beautiful feet. Decided that Micah finally earned the right to service his cock, Connor pulls his sub up to his dick and fucks the back of Micah's throat. Connor then throws Micah to the floor, having his sub jerk off while again sucking Connor's toes. Using his foot, Connor smears Micah's load all over his cum-hungry face before he's brought to his knees for one final fuck. Begging for cum, Micah's rewarded with his master's load.
Join Site!
Buy Shoot!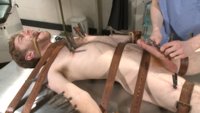 Late into the hospital's night shift, orderly Seamus O'Reilly takes a new hire, Rob Yaeger, through the normal routine. Rob, already bored with the night's tasks, starts feeling horny at the sight of all the pumps and probes. He checks out Seamus, rubbing his cock through his scrubs and asking if they are the only ones around. Seamus nonchalantly replies that no one else will be around for the rest of the shift, unaware of Rob's intentions. Rob pounces on Seamus, strapping him down to an operating table and pinching his body all over in clothespins. Rob inspects Seamus' gigantic cock, running a sharp and painful Wartenberg wheel up the tender shaft to test Seamus' reflexes. Satisfied with Seamus' hard-on in reaction to the exam so far, Rob decides to focus on his own cock, ramming it into Seamus' gaped mouth, pried open with a spider gag. Rob slaps the clothespins off Seamus as he screams at the top of his lungs and moves him to an exam chair for an anal inspection. Seamus is made to take a succession of large butt plugs before Rob inserts his fist as far as he's able. Next, Rob straps Seamus to another exam chair with the sub's legs spread apart in the stirrups as his vulnerable feet are caned again and again. After ramming his cock up the boy's ass Seamus has his cock milked of all the cum before having it shoved in his mouth. Prying the boy's mouth open, Rob shoots a load right into Seamus' mouth before leaving him for the doctor's to find.
Join Site!
Buy Shoot!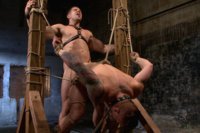 Vertically strapped to a grid of chains, a blindfolded and muzzled Hugh Hunter awaits his leather master, Trenton Ducati. Trenton finally emerges from the shadows with a flogger draped over his ripped body. Trenton bites down on Hugh's submissive ass and reminds Hugh, "You're my property today." Trenton starts flogging Hugh's ass and torso. The relentless flogging gives Hugh a hard-on, so Trenton pulls out Hugh's cock and has it taste a twirling flogger on its throbbing head. Promising a surprise for his plaything, Trenton pulls out a violet wand and edges Hugh while the wand sparks over Hugh's balls, chest and tongue. Hugh finds himself in a rope harness with his hands tied behind his back. Trenton manhandles his property's chest and gets another taste of its cock before bringing out the crop. After warming Hugh's nipples, cock and ass with the crop, Trenton shoves Hugh down for a rough blow job. Hugh gasps for air as Trenton assembles a clothespin zipper from torso to thigh. Trenton fixes the ends of the zipper to the ground and yanks Hugh into the air. Hugh screams for mercy as the clothespin rip away from his tender flesh and Trenton crops away to the sounds of his screams. Trenton has his hunk of meat bound and bent over between two posts as Trenton's fat cock enters his tight hole. Hugh's fucked relentlessly until his master busts all his cum and smears it all over Hugh's face.
Join Site!
Buy Shoot!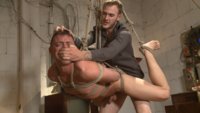 Derek Scott tried to evict Sebastian Keys, but Sebastian had something else in mind. Now after relentless edging, Derek remains suspended and hogtied in Sebastian's fuck den for days now. Back at Derek's office, a resentful Christian Wilde gets dispatched to find his missing rival colleague -- that same arrogant Derek Scott who stole Christian's promotion. As Christian uncovers the lurid scene in Sebastian's apartment, he gets some twisted ideas of his own. Helpless to do anything else, Derek submits to Christian, deep-throating huge cock and giving a sloppy rimjob. Christian swings Derek by his balls before fucking his ass. Christian next allows Derek to stand on his feet again, although bound and blindfolded, and delivers a brutal flogging before once more suspending his prick coworker as the flogging continues. The field work isn't complete without an evaluation of the apartment's power grid, so Christian has Derek test an electro buttplug and stimulation electrodes. Satisfied with the tests, Christian gets back to a vicious fucking before blowing his load all over Derek's ass. Derek gracious accepts Christian's cum, and begs for his own orgasm. Christian obliges, and Derek finally gets his release. The torment hasn't ended, however, as Christian manhandles Derek's sensitive cock head and balls.
Join Site!
Buy Shoot!